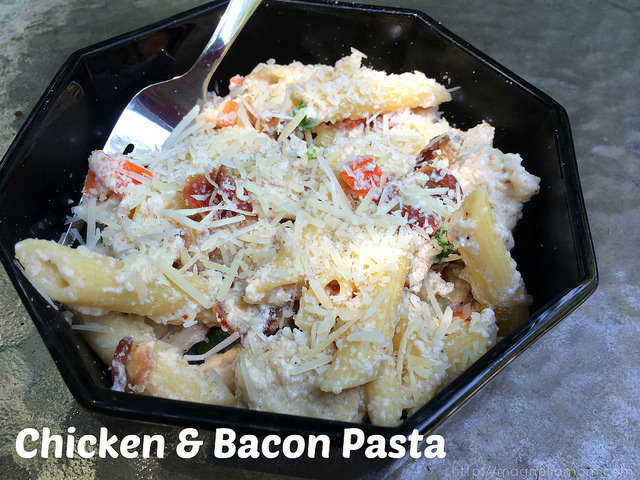 I was super excited to throw this recipe together. However, when I placed it on the table my kids weren't thrilled about the peas and carrots in this recipe. I told them they had to have some veggies one way or another! I, personally, like the sweetness that the peas and carrots add. After trying it, my boys said it wasn't too bad. They ended up loving it, saying they wanted to have this at least once a week. So this is a definite winner!

Servings: 4
Prep Time: 5 minutes
Cooking Time: 20 minutes


Ingredients:
1 1/2 lbs. boneless skinless chicken breast halves cut into bite size pieces
8 pieces of bacon
1 cup of frozen peas & carrots
4 tbs. Olive Oil
2 cups heavy cream (more if needed)
4 tsp. season all
1/4 powdered Parmesan cheese
1/2 tsp. lemon pepper seasoning
1/4 tsp. garlic powder
1 box Penne pasta
Grated Parmesan cheese
Directions:
1. Cook pasta as directed.
2. While the pasta is cooking, cook bacon in the oven like this.
3. In a large skillet over medium heat, saute chicken in olive oil until almost tender about 5 to 7 minutes.
4. Add in peas and carrots and cook about 2-3 minutes.
5. Remove the bacon from pan. Place on paper towel to soak up grease.
6. Roughly chop bacon and set to the side.
7. Drain any excess liquid out of pan. Add in bacon.
8. Reduce heat. Add cream, spices, and powdered parm. Stir and cook for about 3-5 minutes.
9. Put pasta in large bowl and pour chicken and cream sauce over. Stir and mix well.
10. Dish pasta into bowls and sprinkle grated Parmesan cheese over top.
Recipe and picture by Lysha at Magnolia Mom