Fall in New England is magical. Not just because of the changing leaves and cooler temps or maple lattes and apple cider donuts, but also because of the people – the vibe is so uplifting and everyone seems to be in genuinely good spirits. We recently got back from our 11-day family trip to New England and many of you have reached out asking about our itinerary and food recommendations. I am so excited to finally share it with you all. For privacy reasons, I am not going to share where we stayed in case we revisit but I am happy to share with my IRL friends if you want to reach out.
This was our second road trip to New England and we switched it up a little from our first time, but we all agreed that this was the better of the two trips by far. Both years we chose to drive, allowing us to stop at fun places along the way and really experience all that New England has to offer – but the pinnacle of the trip is the fall foliage. The views (even from the road) do not get old.
The first couple of days were non-stop driving but we made it to our first destination – New York City around lunch time and we spent a full 24-hours there. I love NYC but to be honest, this was a very unnecessary stop. We covered most of the sight-seeing last year, so we spent our time doing some shopping and eating pizza. One of my favorite stops is always Ralph's Coffee on 5th Ave. It is such a cool atmosphere and decorated in my favorite color. The coffee is also insanely good.
We left NYC around lunch time the next day and drove to Mystic, CT where we stopped at Olde Mistick Village. It was ADORABLE! We had so much fun walking around shopping and we ate some yummy treats. The Pop on the Block popcorn shop was a hit with my kids, but we primarily stopped to visit the Cloak and Wand shop. If you are a Harry Potter or Hocus Pocus fan, this store is a must.
The next pit-stop we made was in Newport, RI where we visited Kiel James Patrick's flagship store. This is another must stop if you love all cozy fall things. The store was so cute and the location was on the Wharf, so it was also fun walking around and visiting some of the other shops.
From there, we drove to Boston where we arrived later that night. We actually stayed in between Boston and Salem because we were planning to visit both. The next day in Boston was packed. We walked over 20,000 steps that day but it was so worth it. We walked the Freedom Trail downtown and saw so much history. Along the way, we stopped at Tatte Bakery for coffee and breakfast. It is really good and I highly recommend it. We stopped at the D.C. location last year and enjoyed it as well. Before leaving downtown we made a pitstop by Fenway Stadium. They were having an event there so we weren't able to go in, but I was told by some locals that the stadium tour they offer is more than worth it. That is definitely in the plans for next time we are there. After Fenway, we drove to Harvard and explored the campus for a bit before hitting the road for Concord, MA (just a 30-minute drive) to see Louisa May Alcott's home and Walden Pond. If you love literature, this is a must. You can also visit Emerson's home (we only drove by it) in Concord.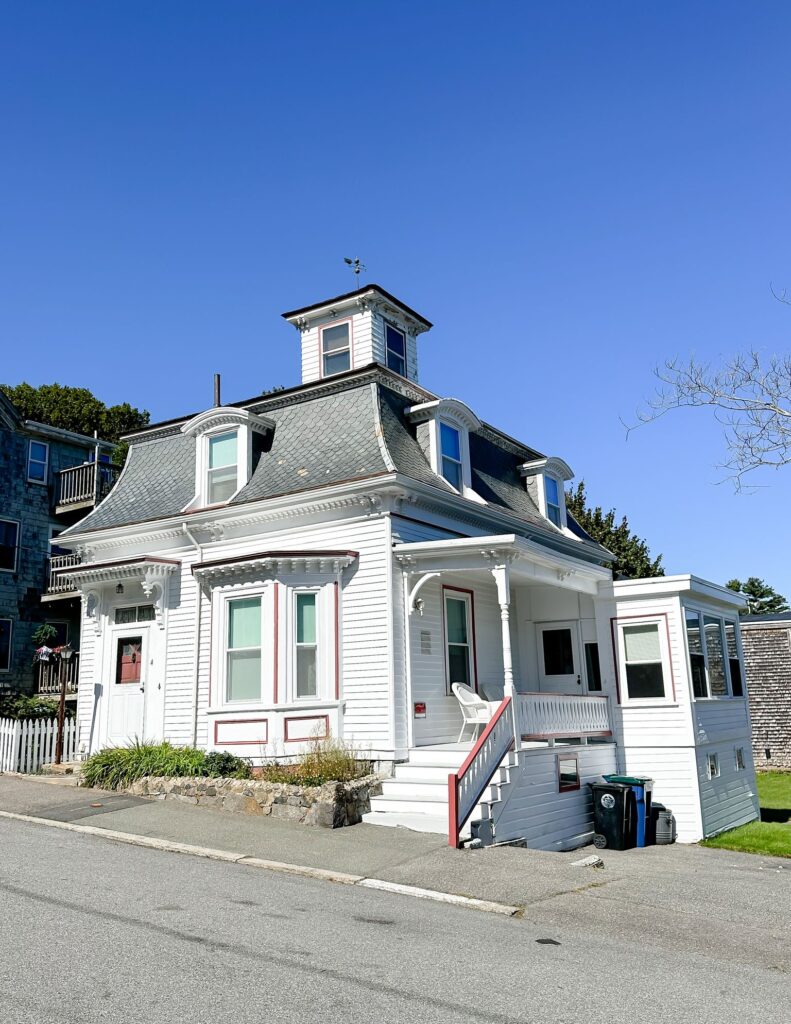 Day 5 of our trip was spent in Salem, MA. No one does Halloween like Salem! This was our second October visiting this fun little town and it never disappoints. Everyone dresses up in costumes and really has fun with it. We love it, but if you have kids who are easily scared, it may not be for you. There is some scary decor in some places so just be aware of that. We try to stay in the kid-friendly areas and only visit the family-friendly shops. I could write an entire blog post on Salem (I might soon), but for now I will give you my shortened version of must-dos.
You can visit all of the Hocus Pocus filming locations that are fairly close together. The Rope's Mansion (Allison's house) is right on Essex Street, which is another must-visit. This is where the popular hotels, restaurants and shops are. You can also see the famous Bewitched Statute of Samantha. Our favorite shop to visit is the very kid-friendly Coon's Card and Gift Shop. We rack up on sweatshirts and coffee mugs here. Also, Wicked Good Books is the cutest bookshop – we are suckers for a good local bookshops! The Red Line Cafe is really good for coffee or a quick bite and is also located right in the middle of Essex. This time we did a tour of The House of Seven Gables which was really fun and again, very kid-friendly. They even have a scavenger hunt to keep the kids occupied – they get a prize for finding all the items on their checklist! It was cute and so fun for them.
From Salem we headed to Maine where we stayed for two days. When I say it is beautiful, that word does not do it justice. It was breathtaking and everywhere I looked was magazine cover-worthy. The giant boulders, crashing waves, tall mountains and fall trees all collide to make the most beautiful place I've ever been. We have talked about skipping NYC next time so we can spend more time in Maine because we loved it so much.
We started our first morning off by grabbing coffee and Acadia Perk, which I highly recommend (especially if you are a Friends fan). They were so sweet and had the best coffee. Then, we went on our first hike of the trip in Acadia National Park – the Gorham trail. It was the most kid-friendly hike we did. It took us a little over two hours, but we stopped a few time to take pictures and to take it all in. The trail has a loop that allows you to finish down by the beach and it is such a pretty and scenic hike. The views are gorgeous. After our hike, we decided to eat lunch at Side Street Cafe and it was deliecious. I recommend the lobster roll (when in Maine!) and the patty melt. Both were delicious. We then walked around the little town of Bar Harbor for a bit and it was really adorable.
Later that afternoon we drove up Cadillac Mountain, where we did some more hiking. It is the highest point in Acadia National Park and the views from the top are incredible. You have to buy tickets in advance and the early morning times sell out quickly (Cadillac Mountain is the first place in the US where you can see the sunrise), but regardless of when you go, the view is definitely worth it. Maine was stunning and I really hope to go back and spend more time there. The only downside (if it is even a downside) is that you do not have great cell service there, so if you rely on your phone's GPS for directions, be aware! But we found that helped us to really unplug and enjoy everything around us.
Before we hit the road to Vermont, we got up really early the next morning and drove to the Bass Harbor Headlight to watch the sunrise – it was breathtaking to watch. Fun fact – this lighthouse was featured as one of the original Windows desktop screensavers.
Driving from Maine to Vermont was absolutely beautiful. We took the scenic Kancamagus Scenic Highway route to Vermont and it was incredible. We made several stops along the way to take a peek at some covered bridges and beautiful fall foliage in New Hampshire.
We spent the next three days in Vermont, which is always our favorite part of the trip. On our first full day, we drove to Stowe and stopped by the Cold Hollow Cider Mill. They are famous for their amazing apple cider donuts (which we actually found out you can have delivered anywhere in the US). We then headed to the hardest hike we did on this trip – Pinnacle Point. I think this hike is suited more for older kids (my oldest two did fine) but my younger boys struggled a bit. There were a lot of stairs and a scramble at the top that was VERY fun. haha
Seriously, though I'd do it a million times over for the views at the top. The mountains were so stunningly vibrant that they looked fake – almost like dyed cotton balls everywhere you looked. It was incredible. The top of the mountain was not the most kid-friendly. It was very uneven so we had to be careful about where we let the kids walk. All in all it took us about four hours to do, and I was very proud of my kids because it was a very tiring hike (even for us adults!) but they did it. We ended our day with the best venison chili at the Idletyme Brewing Co. Their food was amazing, the outdoor dining was perfect, and my kids also approved.
Our second day in Vermont we went back to Stowe to my favorite coffee shop – Black Cap to get their amazing maple latte. I think I drank three while we were there. They are so delicious. Their breakfast sandwiches are also my favorite. We rode the gondolas up Mt. Mansfield – Vermont's highest mountain – but it was too foggy to see much that day. We did this last year and I can atest to the spectacular views, but definitely worth looking ahead at the weather. After the gondola ride we took a few photos down by the iconic church and then we walked around the shops. We all agree that the General Store has the best sweatshirts, kids tees, and souvenirs.
Our third day in Vermont was spent mostly in Woodstock. We grabbed coffee at Mon Vert Cafe (get the spiced maple latte and thank me later) and then walked around the shops and took a few photos of the kids around the town. After we finished up there we drove back to Stowe for one last drive through Smuggler's Notch (the most beautiful scenic drive) and then did a quick and easy dinner at Pizza Chef (another one of our kid's favorites) before heading back to the hotel.
Before leaving Vermont, we stopped through Woodstock again for a minute but it was raining so we hit the road pretty soon after that. On the drive home we stopped by Yankee Candle Village a couple of hours down the road. That was a really fun and spontaneous stop but I recommend it, for sure. Every room was decorated for a different season with all of that season's scents. It was really huge and such a fun place to visit. I won't bore you with the rest of our 20+ hour drive home, but needless to say, it was once again an incredible trip and I'm so thankful for the memories we were able to make with my family. We all agreed that the hikes were our favorite part of the trip. We would love to do more of the next time, but we will see.
We didn't have time to do some of the things we did last year in Vermont because we did more hiking instead (apple picking at Liberty Orchards was really fun). But you could easily spend an entire week just in Vermont exploring all there is to see and do. I guess we will just have to go back…
If I missed anything that you want me to cover, please let me know and I can add it in. You can always feel free to email me or DM me on IG (I check it multiple times a day) for any other questions. I also saved my IG stories in a "New England" highlight for you to reference. Thank you for trusting me to be a resource to you. <3
Day by day summary:
Day 1 – Driving
Day 2 – Driving – afternoon in NYC
Day 3 – Morning in NYC, then Mystic, CT and Newport, RI – drive to Boston
Day 4 – Downtown Boston, Harvard, Concord
Day 5 – Morning in Salem, drive to Maine
Day 6 – Day in Maine
Day 7 – Morning in Maine, drive to Vermont (Kancamagus Highway)
Day 8 – Day in Stowe, VT
Day 9 – Day in Stowe/Woodstock, VT
Day 10 – Morning in Woodstock, VT – drive halfway home
Day 11 – Drive home