This shop has been compensated by Collective Bias, Inc. and its advertiser. All opinions are mine alone. #VTechBaby #CollectiveBias
I have a 2-year old, a 1-year old, and am due with baby #3 in less than 3 months. That's three kids under three. We are hoping this little guy will be born after big brother's birthday, but who knows! To say I have my hands full is an understatement. Some days, I'm lucky to brush my teeth and hair before noon. It's real life when you are chasing around two toddlers all day. I must admit that these two (soon to be three) little nuggets are my whole world. Having peace of mind as a mother is difficult because we are natural worriers, but I have recently had a little help with my parental anxieties.
A couple of weeks ago, I was  on moderate bedrest with this pregnancy. I have been fortunate and blessed enough to have been cleared now and have a healthy and "normal" pregnancy again. When I was on moderate bedrest, I couldn't afford to get up during the night or during naps for every little whimper. I had to lay down as much as possible. About a week before I was cleared, we started using the VTech Safe&Sound VM343 Pan & Tilt Full-color Video Monitor for Sophie. We have absolutely loved it! The picture is so clear and the screen is larger than our old one making it much easier to see her and keep an eye on her. The monitors tilt camera and 2x zoom really helps me to see her when she is moving around or if she is trying to crawl out of her crib. The monitor also has automatic night vision, making it very easy to see her clearly at night when the room is dark. The system has two-way talk so that I can tell her to lay back down or comfort her without getting up and going in there.
This system can expand up to 4 cameras which is really good news for our growing family! We will definitely be getting extra cameras so we can keep an eye on each of the kids in their rooms plus the playroom! The VM343 comes standard with 1,000 foot range so that it can be used from anywhere in the house and even outside. That is so exciting to me because it means I can enjoy some time on the porch or balcony outside of our room while still keeping a close eye on the babies. It also has DECT 6.0 digital technology that keeps static out of the connection and protects from outsiders listening in on my babies. As a mom, that makes me feel really good.
I love how modern and stylish the monitor and cameras are because they fit our style and home really well. They will also look great in our new house with the light and airy color scheme we are using. VTech systems are available at Walmart, Target, Babies R Us, and Amazon. I can honestly say that since making the switch to the VM343 I have had much more peace of mind knowing my little one is near and I can keep a close eye on her and even talk to her if I need to. I can also see her so much better and that makes me feel really good.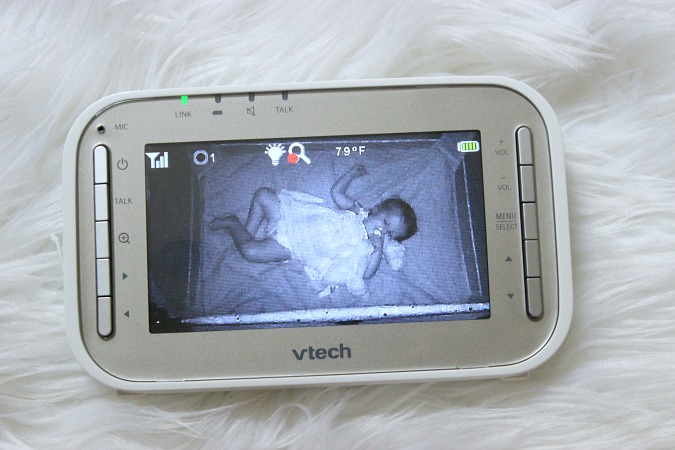 How do you have peace of mind as a mom of young children? Be sure to check out the VTech Safe&Sound VM343 Pan & Tilt Full-color Video Monitor for yourself!