This post was sponsored by SwimWays as part of an Amabssador Program for Influence Central and all opinions expressed in my post are my own.
Because we are a family who loves the water, it is important to us that our kids learn how to swim at a young age. We have a neighborhood pool that we use often and we have family who lives at the beach that we love to visit throughout the summer months. In fact, we have a trip coming up very soon! Because we want to make sure to keep our kids stay safe near the water, it is important to us that we have done our job educating our kids about water safety and have the proper floats. When you teach your child to swim, it is important to know the proper techniques, and information on the latest safety tips and floats.
How To Teach Your Child To Swim:
Start out slow. Go at their pace. More than likely, they will be a little hesitant.
Encourage them and make them feel safe. Maybe splash the water a bit to show them there is nothing to be afraid of.
Take the proper floats, sunscreen and other protectants that you need for your young children.
Pay attention and watch them closely around the water. When you teach your child to swim, it's important to pay attention to them because they are not used to the water.
Teach them about water safety and establish some rules (no running around the pool, don't get near the water without an adult and float, etc.).
Always make sure that a trained professional (life guard) is around.
Put your baby into the Swimways Baby Spring Float Sun Canopy and enter the water together. Give them a toy to play with while they get acclimated with the way the water feels. In time, they can kick and move around in the float as they become more comfortable.
Start by teaching them to blow bubbles so they get used to having their face in the water without swallowing any water. Next, get them to hold onto the side of the pool and kick. The next steps for older children would be to hold onto a float and get them to kick and hold themselves up. Weston is not quite there yet, but my older two are doing this.
The Baby Spring Float Sun Canopy by Swimways is so perfect for our youngest son. He loves it and I feel good about his safety when he is in it. I love that it has a mesh netting around him so that he can safely play with toys while he kicks around. This Baby Spring Float is for babies who are 9-24 months of age and is the #1 selling baby float in the U.S. It has amazing reviews by parents (4 to 5 star ratings) and is a trusted product because it is made by Swimways – a brand who founded National Learn to Swim Day and is a leader in helping children learn to swim and promoting water safety.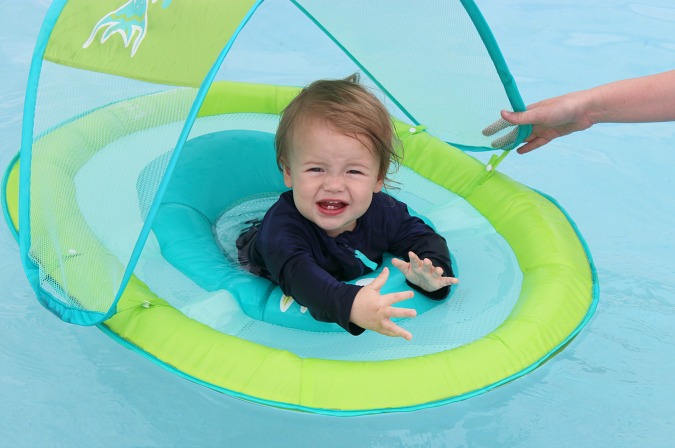 The Baby Spring Float Sun Canopy has a large circumference and a patented spring ring on the inner and outer edges to give it stability. It is covered in fabric and has a soft mesh seat so that your baby sits comfortably in it while remaining durable. It provides added security with its dual air chambers and safety valves and also has an adjustable sun canopy that can be completely removed. The sun canopy has 50+ UPF sun protection. I love that the float folds flat into three compact circles and fits perfectly into it's carry bag making it perfect for sliding in my car and keeping with me at all times.
You can get the Baby Spring Float Sun Canopy at Target here!