Jump to recipe
This shop has been compensated by Collective Bias, Inc. and its advertiser. All opinions are mine alone. #TheOtherBowl #CollectiveBias
I love game days, but especially big game days! There happens to be one coming up and we love to get our friends together to celebrate and eat delicious food! This year, we are making our delicious Cantrell Chili recipe that everyone loves! It is always a big hit with our friends and family. The one thing I think about when serving chili is preparing the other bowl for my guests so they feel comfortable in our home. I would never want anyone to feel awkward, so I like to be prepared by stocking up on Poo-Pourri!
When I was in college, I worked at a local boutique where we sold Poo-Pourri (also known as Before-You-Go® Toilet Spray) and it was always selling out. This stuff works! I've been buying it since I worked there and it is a game changer – especially for guests. Let's be honest, you can't buy Poo-Pourri without laughing a little bit, especially at the names. The really are very clever and hilarious. A couple of weeks ago I purchased the Royal Flush® and Smokey Woods scents because they are my favorites. I love this product because while it is funny and cute, it also really works. Poo-Pourri is made with all-natural ingredients including essential oils. When you spray the bowl before you go, the natural essential oils create a film over the surface of the water which creates a barrier for certain odors that may or may not occur.
The proof of this product is in the numbers. Over 40 million bottles have been sold and they have over 15,000 5 star reviews. Poo-Pourri has NO synthetic fragrance, alcohol, aerosol, parabens, phthalates, or formaldehyde.
How to get the other bowl ready for the big game:
Make sure it is clean.
Stock up on toilet paper and make sure it is easily accessible.
Place the Poo-Pourri on the back of the toilet for guests to use.
Making your guests feel comfortable is of the upmost importance.
Chili Recipe:
Easy Chili Recipe
Ingredients
1 lb. ground beef or turkey (we use turkey)
5 cans of chili beans
1 can tomato sauce
2 packets of chili seasoning
Instructions
Brown your meat then dump all ingredients in your crockpot and cook on low for 5 hours. So easy and delicious!
© 2023 Recipe by LoganCan.com
This chili recipe is always a hit and it is so easy to make. We love making it during the cooler months. and for parties because it makes a pretty good size batch. I love serving this dish, but only if I'm prepared with my Poo-Pourri!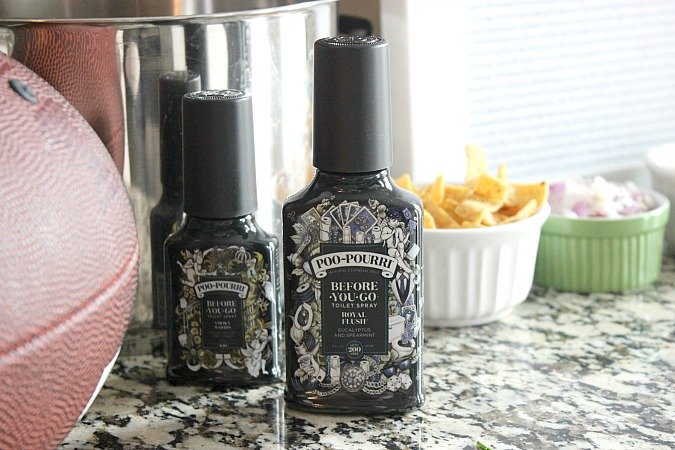 You can snag your Poo-Pourri and check out all of the fun scents at PooPourri.com! Free shipping is available for orders over $19.95!