This shop has been compensated by Collective Bias, Inc. and its advertiser. All opinions are mine alone. #PlayWithPlaymobil #CollectiveBias
Most of you know by now that I am a bit of a psych nerd. I have a BS in psychology with a focus on childhood psychology. I have always loved learning about brain development, how children learn social skills, and how their personalities are shaped. It is all so fascinating. I've always laughed at the fact that I am not really using my degree at the moment, but then again, I kind of do in every day life with my own children. Don't get me wrong, I still don't have a clue what I'm doing most of the time and every child is so different. But one topic I have been particularly interested in recently is free or imaginative play. In a world full of video games and technology, I have seen a huge shift in society that focuses on constantly putting children in a structured environment (which is great sometimes). But we often forget to let kids be kids and just how important free-play is for their development.
Hover over the image below to start shopping for PLAYMOBIL toys!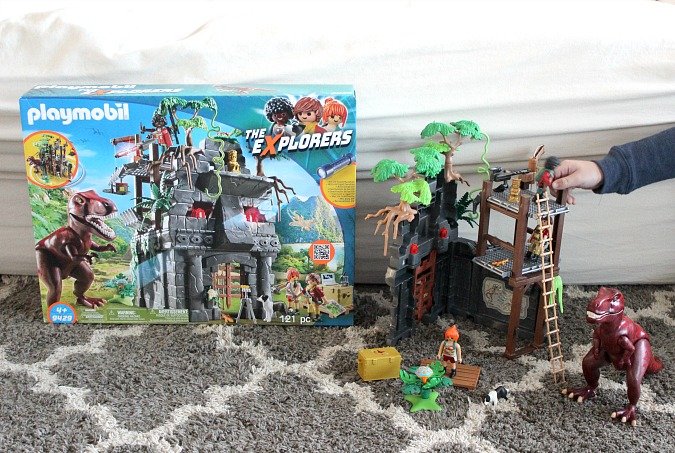 Imaginative play is truly under-appreciated in today's society. Kid's not only develop creativity, but they also can learn so much about real life situations. For example: if you play with your child for a few minutes a day, you can teach them how to react to certain situations. I love to do this with my kids from time-to-time to see how they would react to certain things and to see where their mind and their heart is.
We recently had the privilege of shopping at my favorite one-stop-shop – Walmart – for the new PLAYMOBIL Hidden Temple and T-Rex set. Hampton (my oldest) is so into dinosaurs right now and he loves PLAYMOBIL. This was sort of nostalgic for me because I  grew up playing with PLAYMOBIL toys and I felt like I was passing something special down to Hampton. I am so excited that Walmart is now carrying PLAYMOBIL toys. PLAYMOBIL creates imaginative play sets that are focused around iconic figures from fantasy worlds (dinosaurs) and the real world (firefighters, police, etc.) I've always been drawn to these play sets because of the amount of detail in these high-quality toys. The detail of the play-sets makes play-time so much more fun and helps to develop cognitive and emotional/social skills.
How to teach children how to thrive in real life through imaginative play:
First, be sure to make imaginative play with your child a regular part of your day. If you can't make it happen every day (we all have those days), try to do it as often as possible. While you are playing with your child, create different situations – whether it is a social situation they can work through or you see a great opportunity to work through a safety issue with your child (while playing with a fire rescue or police car, for example). Mimic what they should do, or take the opportunity to ask them what they think the right thing to do would be. You may be surprised by their answers and how much they already know. You can help teach them patience (when sibling want to play and interact, too) and all sorts of other emotional skills depending on the play situation. You can also develop a stronger relationship with your child and before you know it, you will look forward to this time every day!
During our play time with the new Hidden Temple and T-Rex, we worked through "real life" situations like what to do if we were ever in danger. I was able to help him work through different scenarios (appropriate for a 5-year-old) and he is always surprising me with his answers and reactions to certain situations during our play. Some days, I think he is a few steps ahead of me. Spending that time playing and interacting with our children has a much greater impact on them and their development than we realize in the moment. It teaches them social skills, how to handle tough situations and more, all through play! It is a fun way to teach and help them learn and develop these crucial cognitive and social skills.
Find all of your favorite PLAYMOBIL toys at Walmart here to let the fun and learning begin!