The most anticipated sale of the year is finally here for cardholders! That's right! The Nordstrom Anniversary Sale 2018 Early Access has officially started and I stayed up all night rounding up all of my first-look favorites for you in this post. Now, pass the coffee! I will share Athleisure, Shoes, Kids clothes and Accessories in more detailed posts throughout the week as well as a try-on post the first day the sale opens to the public (July 20th) and I will of course be sharing my purchases as they come in on Instagram. Be sure you are following me on Instagram and my Facebook page as I will be updating restocked items and favorites and check back on this page for a list of ALL my picks that I will keep updated every day of fully-stocked items.
This sale is so popular because it is one of a kind – meaning it is the only sale where a retailer puts brand new fall inventory on sale up to 40% off before it has even made it to the shelves. It is a great time to stock up on the season's must-have boots, booties, sweaters, jackets and jeans for a fraction of the price. Plus, Nordstrom offers free shipping and easy free returns on every purchase so you can shop quickly with confidence!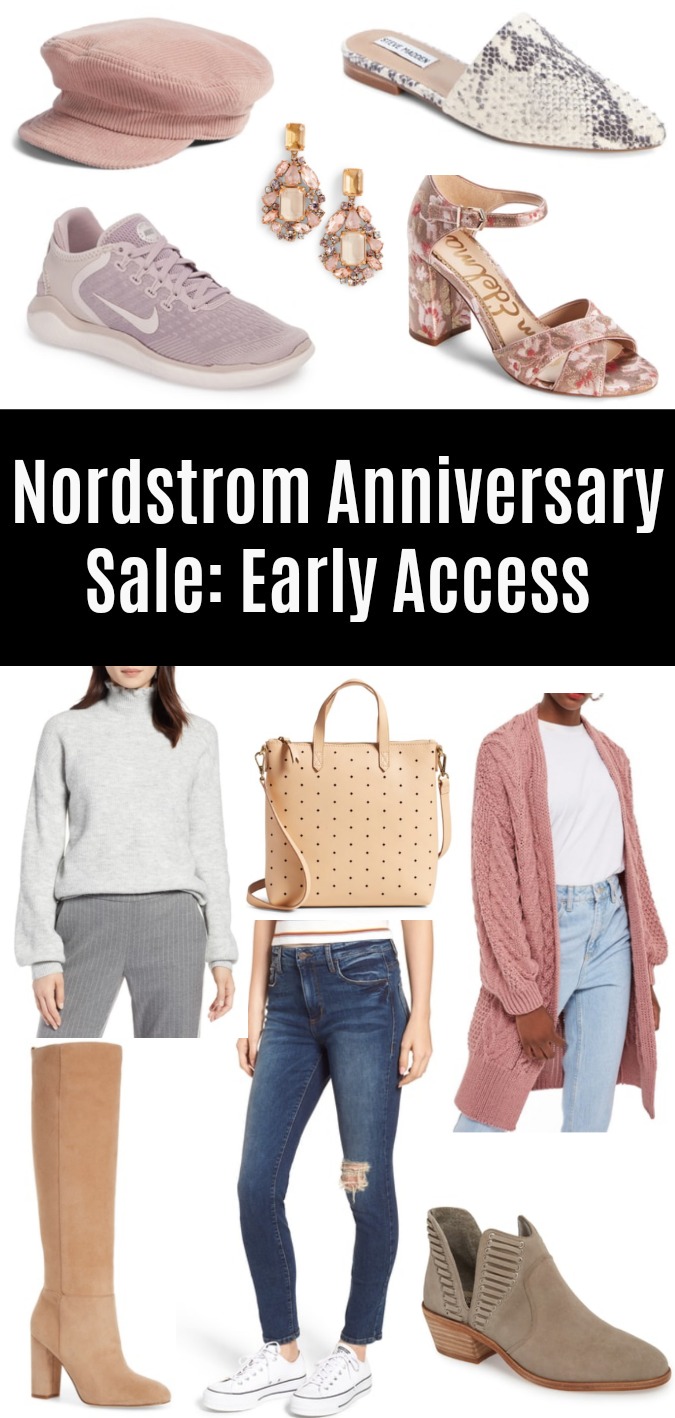 Thank you for using my blog as a resource for the Nordstrom Anniversary Sale and I hope you find some great goodies to add to your fall wardrobe! Shopping through my links earns me a small commission and this helps support my family and blog, so thank you for supporting my dream and my family. I appreciate every one of you more than you will ever know.
Alright, Let's grab a cup of coffee and get our shop on!
Nordstrom Anniversary Sale 2018 Picks:
Steve Madden Mules // Brixton Fiddler Cap // Sam Edelman Heels // J. Crew Earrings // Nikes // Sam Edelman Tall Boots // BP Jeans // Vince Camuto Booties // Ruffle Neck Sweater // TOPSHOP Cardigan // Madewell Tote
Things that will sell out fast:
Patagonia Better Sweater Pullover 
Wubby Pullover // Jacket Version (I snagged this one this year)

I recommend shopping and checking out quickly as the most popular styles are known to sell out very quickly (maybe even today, it's happened). Sometimes they come back, but a lot of times they do not, so if you see something you want, grab it now! I also recommend if you are unsure about sizing, grab the item in two sizes and return the other later (returns are free). Don't forget to check this page daily and follow me on Instagram and Facebook for the latest restock alerts! Happy Shopping!