Welcome to the sixteenth week of Monday Mingling! Please take the time to introduce yourselves to our co-hosts! If you are new to this blog hop, please leave us a comment letting us know you are following and we would be happy to follow you back. We have co-host options available. If you are interested in co-hosting, sign up here and I will email you with a date. Thank you for joining us this week, and don't forget to link back to us by grabbing our button. Happy Mingling!
Britney @ The Princess and Her Cowboys
I started this blog a few months ago to give me motivation to get some procrastinated projects done and have really enjoyed getting to know other people through blogs. I like to show crafts, recipes and write about different things that are on my mind. Plus, I'm starting to get my husband on board with these projects which makes it even more fun :).
Amanda @ Rhyme and Ribbons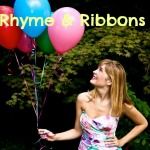 Blog | Bloglovin' | Twitter | Facebook
I came to England from America to be an actress and found love instead. Here, you'll read about baking, cooking, DIY, life abroad, and traveling. (With the *occasional* shout out to Diet Coke, fashion, Oreos, colourful things, trash tv, pandas, polka dots, literature and all my other favourites!) I only own two pairs of socks and I can never eat just one cookie.
1. Follow both of your hosts via GFC or Bloglovin'.
(first 2 links below)
2. Follow your co-hosts via GFC or Bloglovin'
(next two links)
3. Link up your main blog URL, not a specific post.
4. Link back to us by grabbing our button.
5. Tweet, Facebook, and Pin this blog hop. The more you spread the word the more people will link up, and the more success you will have!
Tweet
6. Be sure to visit other blogs! Don't just link up and wait for others to find you.