Welcome to the seventh week of Monday Mingling! Please take the time to introduce yourselves to our co-hosts! If you are new to this blog hop, please leave us a comment letting us know you are following and we would be happy to follow you back. Thank you for joining us this week, and don't forget to link back to us by grabbing our button. Happy Mingling!
Dani @ Football and Rainbows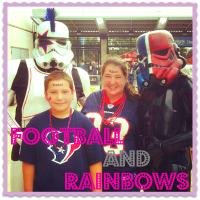 Blog
|
Twitter
|
Instagram
I have a lifestyle blog. I talk about things I do with my family and my upcoming wedding.
Nicole @ Treasure Tromp
I'm Nicole, the lady behind the blog Treasure Tromp. My blog started off as a way to document my attempts at discovering life's little treasures…… and as a way to distract myself from my PhD program in psychology (don't tell my professors). When I'm not studying or working on program evaluations, I like to hike and camp around southern California, obsess over hedgehogs, and make a mess in the kitchen.
1. Follow both of your hosts via GFC.
(first 2 links below)
2. Follow your co-hosts via GFC
(next two links)
3. Link up your main blog URL, not a specific post.
4. Link back to us by grabbing our button.
5. Tweet, Facebook, and Pin this blog hop. The more you spread the word the more people will link up, and the more success you will have!
Tweet
6. Be sure to visit other blogs! Don't just link up and wait for others to find you.