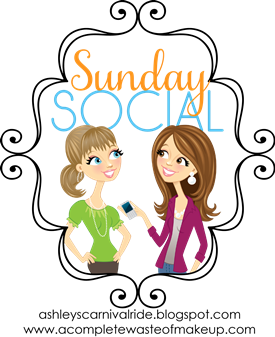 It's Sunday, which means I'm linking up with Neely at A Complete Waste of Makeup for the Sunday Social!
This week the theme is 4's:
1. Name 4 jobs you've had in your life.
2. Name 4 movies you would watch over and over.
3. Name 4 places you have lived.
4. Name 4 of your favorite foods.
5. Name 4 things you always carry with you.
6. Name 4 places you have been on vacation.
1) I was an assistant dance instructor/dance instructor at my studio ages 13 – 20, then I was a nanny for a few months until I got a job at a small local boutique where I worked for 3 years and now I am working with computers (borrrring). My

favorite

thus far has definitely been teaching dance. I miss it terribly.
2) I'm a big movie buff so I'm going to narrow it down to top 4 Christmas movies:

1) Elf

2) Christmas Vacation

3) Grinch

4) A Christmas Story
3) I've only lived two places: Montgomery, Alabama and Auburn, Alabama.
4) Anything Chocolate, Chicken, Sweet Potatoes, Pizza
5) Phone, Lip gloss, Keys, a Book
6)London, Paris, Bahamas, New York
I am putting together my Holiday Giveaway. If you are interested in participating, please let me know by emailing me at loganab8(at)gmail(dot)com. Also "like" my new
Facebook page
!
*60% OFF ALL ads right now!* Use promo code MERRYCHRISTMAS.