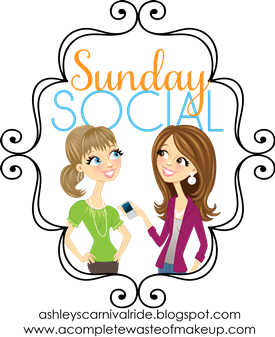 I'm linking up for the first time with A Complete Waste of Makeup for Sunday Social! Y'all go check it out!

1. What is currently on your wish list?

~A cricut

2.

What is an app that you have recently discovered that everyone needs to know about?
~Vintique. It is a photo editing app with really cool filters that Instagram does not have.

3.

What is a new Fall TV show you have added to your DVR?
~ REVOLUTION- I'm addicted! It's not my usual cup of tea, but I wanted to check it out and when I did I couldn't stop watching. I have to find out what happens next!
4.
Share your Social Media links for us to follow you on(pinterest, twitter, facebook, etc) Tell us which is your favorite and why?
~ Twitter, Instagram, Pinterest – My favorite is hard to say. I am addicted to Pinterest, but I love Instagram, so I'm going to call it a tie.
5.
What is a TV show or Movie or Song you could listen to or watch over and over and over and never get tired of…feel free to name one of each:
~ This is easy. GILMORE GIRLS is my all time favorite show. Probably because I have similar humor to them. I own all 7 seasons and watch it all the time. As far as songs… I'm a music lover so there are quite a few but Sinatra never gets old. I could listen to Frank all day every day and never get tired of him. I also love anyone country (other than T-Swift).