I'm linking up for the first Literary Junkies Link-up hosted by Taylor at Goings on in Texas and Lesley at By the Porchlight. They have also started an online book club! If you are interested, get in touch with Taylor and she will hook you up!
This week's questions:
1) What book are you currently reading? Give us a little synopsis and your review.
2) What are your 3 favourite books of all time?
3) What is your "approach" upon entering a bookstore? Where do you immediately head after entering through the front door?
1) I just started reading
Burning Bright
by Tracy Chevalier. I don't know much about it since I've read all of 10 pages, but I just finished reading
Firefly Lane
by Kristin Hannah and you can find my
review here
.
2) Narrowing my favorites down to 3 is very difficult but if I had to choose it would be: The Forgotten Garden by Kate Morton, Pride and Prejudice by Jane Austen and The Secret Garden by Frances Hodgson Burnett.
3) I go straight to the Fiction section and then always check out the Clearance aisle before I leave. You never know what you're going to find on clearance!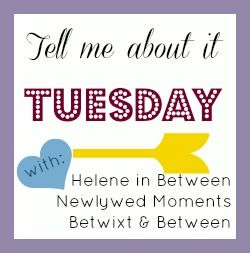 I'm also linking up with my girls from Tell me about it Tuesday!

Happy Tuesday, y'all!